Whether your workplace is strict or relaxed, there is a certain level of refinement that should always be maintained  and things you should simply never do. 
If you want to learn a few rules about how to build your own elegant wardrobe you need to understand the basic guidelines about the office wardrobe etiquette.
The Basics
A very important topic when it comes to improve your style is to know your strengths, based in your body type,  because we are born with a certain height, facial features, bone structure or hair color, these which can be changed or improved. So it's very important how give the right impression and look polished, professional and chic. Remember to put some time and thought into what you wear based in your lifestyle, personality , body, your kind of job, your salary,  etc.
Fashion passes, but the style remains.
In this topic, stop worrying about buying the latest trend. Fashion houses run expensive campaigns to tell you what to wear and what do you need this season and the next one, so consider that 'fashion' is expensive and does not always imply look like the latest Burberry collection. Discover you inner elegant style based in the latest trends, you don't need to spend a lot of money, you only need to pick the right  items that fit your lifestyle.
Color Palette
In the workplace I recommend classic colors and designs. You can add some color in your belts and shoes and chic accessories.  When you are buying new clothes, remember what kind of color suit you better, DO NOT BUY JUST BECAUSE IS ON SALE!.
The Basic wardrobe
The Suit
Is a must for the professional men and women to have a black or navy suit. Even if your workplace is relaxed, you always should be prepared for a meeting.  In the workplace do not wear minis, all skirts should be under the knee.
Remember that fit is very important, so do not hesitate if you need to visit the tailor. You want to make sure the length is right for the office environment and make sure that the suit doesn't tugs and tucks in all the wrong places.
The day to night dress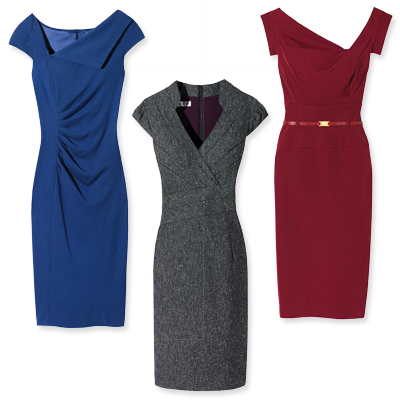 This is a dress you can wear in the office with your blazer and look professional and then at night, you change the blazer for a statement piece of jewelry and you are done!
Shoes
A heel gives you confidence and an amazing posture. You don't have to go with a sky high heel (which I do not recommend) but instead you can wear a heel no more than 4 inches.
NOTE: In the summer do not wear flip-flops or things like that. Sorry! Keep it professional, even if you are a waitress, cashier, etc. You can find plenty of nice shoes that can be very comfortable and stylish at the same time.
Cleavage
Work is definitely not the place for it. Unless you're working for Hooters.  Keep it classy and make sure your shirt is buttoned up properly.
Tight Clothes
Tight clothing is not appropriate for men or women in the workplace. In the office, you want to be recognized for your work (and style of course) not your physical assets.
Nail Polish
Do not wear a vibrant nail polish color (especially crazy colors; it can be too provocative for employers).
My  Advice:
Do research about the company where are you working for or where do you want to work for. It's important to understand how to combine your style with the culture of the company.Is not the same Google than Goldman, Sachs & Co . dress code.
Remember that etiquette magic is about dressing professionally shows others that you pay attention to details and respect yourself and others. So If you don't look like you are professional, people won't take you as a professional.
for some wardrobe ideas, visit my Facebook  , Pinterest  and Polyvore.